Chubby Howard Show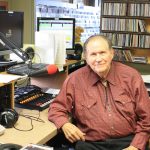 Featuring Chubby Howard with co-host Tyler Fairburn
Saturdays, 9 a.m. to 3 p.m.
An encyclopedia of country music folklore, not only is he loved as a part of Real Roots Radio, Chubby is one of Ohio's most renowned steel guitar players. Veteran radio broadcaster, Ray "Chubby" Howard, was inducted into the Steel Guitar Hall of Fame during the 2015 International Steel Guitar Convention in St. Louis. Howard has been entertaining Real Roots Radio listeners each weekend with his unique mix of encyclopedic country music knowledge and down-home humor since 1998. A US Navy veteran and professional steel guitar player, Howard has worked with some of the brightest stars in the country music business including Buck Owens, Connie Smith, and Boxcar Willie.
Join Chubby Howard the first Saturday of each month, 9 a.m. to 10 a.m., as he broadcasts live at Tudor's Biscuit World. Check out the signature Chubby Biscuit loaded down with lots of country goodness. Tudor's Biscuit World is located at the corner of West Second Street and Allison Avenue in Xenia. Call 372-3300 for more information.
Dayton Daily News Article – Chubby Howard
Local Pickin'
Join Chubby Howard for pickin' around the Dayton area! Each week you can find Chubby playing the pedal steel guitar with a band of friends. Schedule changes are always possible. Any questions can be directed to our lobby shop at 937-372-5804.
Wednesday
4 to 7 p.m.
VFW Post 8066 Preble Memorial
401 Lexington Rd.
Eaton, Ohio 45320
(937) 456-5281