Paul "Moon" Mullins
September 24, 1936 – August 3, 2008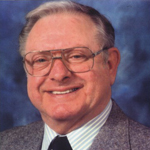 After nearly 45 years of broadcasting, the legendary Paul "Moon" Mullins retired from his full-time position as the mid-day personality at Classic Country Radio, March 4, 2005. His accomplishments in broadcasting and the traditional country and bluegrass music industry as well as his contributions to the Appalachian community, will remain for generations. The memories of his unique, ad-lib advertising style for the thousands of sponsors he has been a spokesperson for and his stories of real life experiences, many relating to his Appalachian heritage, will never be forgotten by his many loyal listeners. Mullins was diagnosed with Progressive Supranuclear Palsy in 2007, a neurological disease often misdiagnosed as Parkinson's Disease. He was cared for at his home in Franklin Township until June 2008 when he was then admitted to Hillspring Nursing facility in Springboro, Ohio where he passed away, August 3, 2008, at age 71.
Born in Frenchburg, Kentucky in 1936, Paul Mullins was surrounded by the music of bluegrass pioneers such Lester Flatt, Earl Scruggs, and The Stanley Brothers, at an early age. His life was shaped by the mountain people and experiences of rural life. During a tour in the Army from 1955 to 1958, Mullins learned to play fiddle. After this tour, he landed his first professional job in the music business with The Stanley Brothers as the fiddle player with their band, The Clinch Mountain Boys. In 1960, Mullins began his broadcasting career as a full-time on-air personality, working at stations in eastern Kentucky. His unique broadcasting style was developed at WGOH in Grayson, KY, WMST in Mt. Sterling, KY and WTCR in Ashland, KY before moving to Ohio in 1964 where he joined the staff of WPFB in Middletown. The nickname "Moon" caught on quickly after a few months on air in Ohio. From this point on, Moon Mullins was instrumental in promoting the kind of music he loved to the people of the Miami Valley.
As a native Kentuckian, his style was an instant success with the thousands of Appalachian transplants in southwestern Ohio. WPFB, reaching the metropolitan areas of Dayton and Cincinnati, had a rich history among performers and fans of traditional country and bluegrass music. Mullins' morning and afternoon programs from the Middletown station were extremely influential in the preservation of this music and served to introduce leagues of listeners to quality bluegrass from the 1960s through the 1980s, playing with and promoting the bluegrass greats along the way. His broadcasts are valued greatly for his knowledge about the industry, learned first-hand over the years through personal relationships with artists like Bill Monroe, Don Reno, Ralph Stanley, The Osborne Brothers and Ricky Skaggs. But Mullins' trademark was his down-home, personal style of promoting his advertisers, bringing everyday experiences into a meaningful perspective of their offering.
With the exception of management disputes, particularly in 1981 when he relocated to Jellico, TN to manage a local radio station, Mullins' association with the Middletown radio station lasted nearly 25 years, until March of 1989.
In addition to his broadcasting charisma, Mullins has contributed many other experiences to the music industry over the years. As a professional fiddle player, he always kept a hand in performing and recording with various bands. In 1962, he wrote and recorded one of his best bluegrass contributions, the song, "Katy Daly", which has been a bluegrass standard for 40 years. For several years beginning in 1967, he assisted the late Bill Monroe, serving as the Master of Ceremonies for the Bean Blossom Bluegrass Festivals in Brown County, IN. For over 10 years, Bean Blossom was the biggest bluegrass event of its kind in the country. In addition to his role as a Master of Ceremonies at bluegrass events, he also personally promoted dozens of other area festivals and concerts. Mullins also helped establish The Boys From Indiana in the 1970s, one of the premiere bluegrass festival acts, who recorded and toured extensively for many years.
His only son, Joe Mullins, began a broadcasting and musical career in the early 80's as well. Musically, The Traditional Grass, a band formed in 1983, including Paul, Joe, and Mark Rader, worked extensively throughout the region due to the popularity of Paul and Joe's radio programs. After they both resigned from the Middletown station in 1989, the band began performing, recording and touring full-time on a nationwide basis. The Traditional Grass produced and recorded many independent recordings and eventually four CD projects for Rebel Records. Joe formed Town and Country Broadcasting in 1995 for the purpose of purchasing WBZI AM 1500 in Xenia, OH. With such a demanding business opportunity, The Traditional Grass disbanded.
Paul was right at home again behind the mic at WBZI and once again thousands of listeners endeared to his style each weekday. No other broadcast personality in the world could speak daily to listeners about planting potatoes, churning butter, grinding corn meal or curing country hams. Mullins did not merely speak of these events from memory. He continued to carry on these rural traditions himself.
In October of 2000, Mullins was named Broadcaster of the Year and also received a Distinguished Achievement Award, both from the International Bluegrass Music Association (IBMA), the worldwide trade organization for the bluegrass industry. Up until 2004, Mullins still played fiddle occasionally when the WBZI Bluegrass Band would be called upon for special promotions. In March 2004, Mullins' workload was reduced to a two-hour air shift each weekday from 12:00 p.m. to 2:00 p.m. By July 2004, Mullins could be heard on three stations with the acquisition of WKFI AM 1090 in Wilmington in June 2003 and WEDI AM 1130 in Eaton in July 2004.
He received the 2007 Ohio Heritage Fellowship Award for Performing Arts during the Cityfolk Festival in downtown Dayton. The Ohio Heritage Fellowship honors Ohio folk artists or groups who are the finest and most influential masters of their particular art forms and traditions; Ohio master folk and traditional artists who carry forward the folk traditions of their families and communities through practice, teaching or advocacy.
Paul "Moon" Mullins Timeline
1936 – Born in Frenchburg, Menifee County, Kentucky
1955 – Served in the U.S. Army, where he learned to play the fiddle
1958 – Joined The Stanley Brothers band. One of the early groups to appear on television
1960 – Began broadcasting in Kentucky: WTCR, WGOH, WMST
1962 – Married Prudence Williams
1962 – Joined The Bluegrass Playboys, composing the tune "Katy Daly", which has become a well-known bluegrass standard.
1964 – Moved to Ohio – broadcasted for WPFB in Middletown, morning and afternoon, "The Moon Mullins Show", where he promoted his style of music to fans throughout the Miami Valley
1964 – 1978 Played fiddle on recording sessions with Charlie Moore and Bill Napier, Larry Sparks, the Goins Brothers, Charlie Monroe, Earl Taylor and Jim McCall, Jimmy Martin, and The Boys From Indiana
1965 – Son, Joe, was born
1967 – Began working for Bill Monroe as M.C. for the Bean Blossom festival for several years.
1968-1988- promoted such popular acts as The Osborne Brothers, Ralph Stanley, Don Reno, The Country Gentlemen, Jim & Jesse, J.D. Crowe and many others at venues and festivals throughout Ohio
1973 – Daughter, Christy, was born
1974 – Played fiddle and helped organize the group, The Boys from Indiana
1983 – Began the group, The Traditional Grass with son, Joe, and Mark Rader
1995 – Joined son, Joe, at WBZI AM 1500, Classic Country Radio, in Xenia, OH where he continued to be known for his knowledge of the classic country and bluegrass music industry, as well as his down-home personal style of advertising
2000 – Began broadcasting worldwide at www.wbzi.com
2000 – IBMA – Distinguished Achievement Award
2000 – IBMA – Broadcaster of the Year Award
Year 2000 Census – Award of Recognition for his help
The previous census had limited response from the Appalachian population who migrated to the Ohio region. Due to his influence and commitment to this segment of the Ohio population, he was asked to advertise the 2000 Census, urging listeners to complete and return their census forms.
May 2000 – Featured in The Columbus Dispatch
June 2000 – Featured in Ohio Magazine
August 2000 – Featured nationally on NPR's "All Things Considered" program
March 2005 – Featured in Ohio Magazine with son, Joe, for their bluegrass radio programming
March 4, 2005 – Retired from Classic Country Radio after nearly 45 years of broadcasting
July 2007 – Received the Ohio Heritage Fellowship Award for Performing Arts
August 3, 2008 – Paul "Moon" Mullins passes away.