Midwestern Jamboree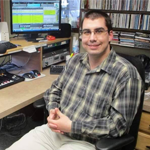 Saturdays, 9 a.m. to 1 p.m.
It's no coincidence that Tyler Fairburn's radio program is called the "Midwestern Jamboree." It was through his research into the Midwestern Hayride, Chubby Howard, and the country music history of the Miami Valley that we came to know Tyler several years ago.
Love for country music runs deep in Tyler's family heritage. His great grandfather Randy Dirks (member of "Russ Helton and The Trailhands" quartet), worked with our late man of steel, veteran broadcaster Ray "Chubby" Howard many years ago. Fast forward several decades, Tyler is carrying on the musical tradition.
Tyler digs deep, covering all the decades of Classic Country and Western Swing music. Call in with a request, or send an email and say "Howdy!" and let Tyler know where in the world you're tuned in from and enjoying Real Roots Radio!
Email Tyler